Latest Reviews
The promotion of the new single and album is going well so far and I have already started receiving reviews already.
Here's a few links to check out
http://www.theindependentmusicscene.com/2010/09/michael-lee.html#links
http://www.redhotvelvet.co.uk/interviews/interview-michael-lee/
Here's a feature in the Buck Herald Newspaper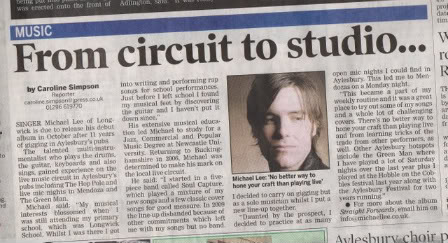 I have also recorded an interview for Banbury Sound radio to promote the Gig at the Wheatsheaf on Friday the 10th of September.
The interview will be aired Wednesday the 8th of September between 7 and 10pm.